Workplace Abuse Lawyer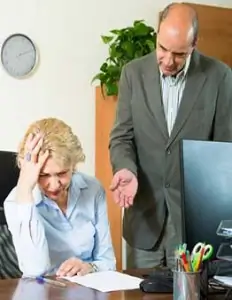 Workplace abuse is alive and well in 21st Century California.
Our employee lawyers have fought and won many workplace abuse cases for our clients. We have obtained monetary compensation for our employee clients while restoring their dignity.
Relief provided for workplace abuses, other than work injuries caused by ordinary negligence, include tort damages. These damages include lost wages, damages for mental suffering, and potential punitive damages. Workplace abuses involving unlawful discrimination or sexual harassment require the employer to pay the employee's attorney fees if the employee wins the lawsuit against their employer.
Workplace abuses for unpaid wages carry many fines and penalties the employee may be able to recover. If the employer loses they must pay the employee's attorney fees. However, our labor lawyers take all cases on a contingency. This means we are only paid out of what we recovery.
WE ADVANCE COURT COST.
ALL CASES ARE TAKEN ON CONTINGENCY.
WE ARE ONLY PAID IF WE WIN!
1-877-525-0700
Modern Day Workplace Abuses include: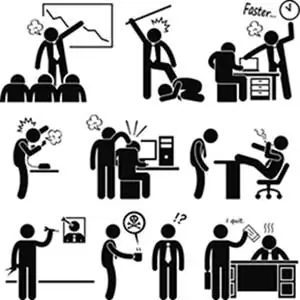 Forcing employees to work in unsafe work environments
Exposing employees to unhealthy work environments
Subjecting employees to workplace stress and intimidation
Retaliation due to whistleblowing
Discrimination based on age, disability, medical condition, race,
pregnancy, and sex
Shaving off time worked from timecards
Not paying overtime or double time
Not allowing employees to take 10 minute rest breaks
Failing to properly pay employees
Failing to reimburse employees for expenses incurred that benefit the employer
Assault, battery, and sexual battery
Failing to allow an employee to use workers compensation benefits
Forcing employees to perform illegal acts for their employers
Harassment on the basis of a protected characteristic
Not allowing employees time off for serious medical appointments
Although the above list is somewhat long and contains eighteen different categories of workplace abuses there are many more.
Our labor attorneys have extensive experience representing employees. We are aware of all legal remedies that might apply to an abusive workplace. 
For legal consultation about workplace abuses - contact our labor lawyers at 1-877-525-0700.
Workplace Abuses Falling Under The Workers Compensation System
Workplace abuses may fall both under the civil court system and the workers compensation system. However, some types of workplace abuse only allow for legal recovery in the workers compensation system. Workplace abuses that must be redressed in the workers compensation system allow the employees certain remedies. Remedies under the workers compensation system include:
Permanent and Temporary Disability Benefits which mean a percent of the employee's normal salary until they are mentally or physically able to work at the capacity they did before the workplace injury
Paid for Medical and Psychological Treatment
Potential lump sum payments for workplace injuries
Our work lawyers can advise you whether your workplace harm qualifies for workers compensation benefits and/or civil damages. Call us at 1-877-525-0700 for a confidential conversation about your workplace problems. Some Of Our Workplace Abuse Case Results: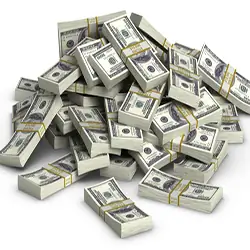 $525,000 for a group of underpaid disaster inspectors
Several settlements of more than $300,000 for sexual harassment
A binding arbitration for close to $300,000 for illegally paid construction workers
A binding arbitration award of approximately $539,000 for disability discrimination
Workers compensation settlements of hundreds of thousands of dollars
$365,000 trial win for pregnancy discrimination and failure to accomodate
$225,000 settlement for pregnancy harassment and discrimination
$150,000 for race discrimination and racial harassment in El Segundo
$175,000 for several exotic dancers not paid minimum wage
$750,000 class action settlement for janitors paid less than minimum wage