Reviews of Employment Lawyer Group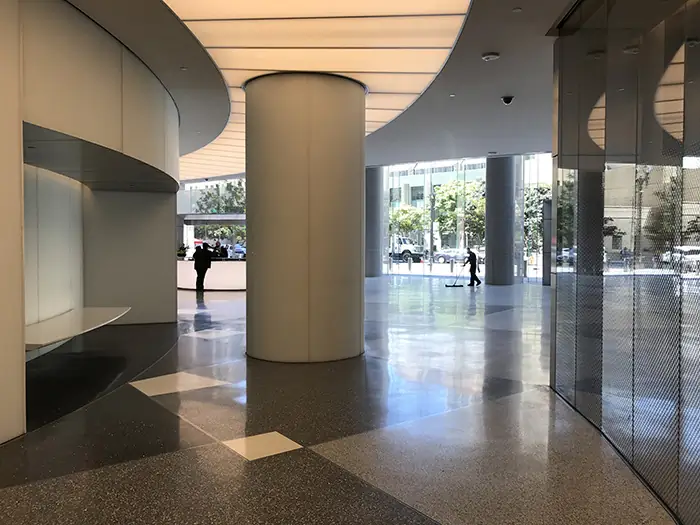 On this page you can read reviews from our actual clients. Some of these clients were represented by our law firm for years, at trial and appeals all the way to the California Supreme Court. Others were grateful for our services because we brought prompt resolutions to their employment disputes. Unlike reviews you may find around the web from persons who were declined as clients because they had bad attitudes, or bad cases, or were entered by persons we sued and hold grudges, these reviews share actual impressions of how it was to work with our employment attorneys over long periods of time. Also, in this article, you will find peer endorsements from other employee lawyers and professions.
If we both want to work together and you are interested in speaking to one of our ex-clients,
call 1-877-525-0700 so we can put you in contact with an ex-client who will give you a candid review about our law firm.
CLIENT REVIEW OF KARL GERBER,
EMPLOYMENT LAWYERS GROUP
HAPPY CLIENT FROM OXNARD

Apr 6, 2021
Susy R
Had a great lawyer who represent me and was every step of the way, helping and explaining everything. They guide me through the process and my case was settle in less than 7 months.
CLIENT REVIEWS ABOUT KARL GERBER

May 8, 2020
Angela Williams
Had a great lawyer who represent me and was every step of the way, helping and explaining everything. They guide me through the process and my case was settle in less than 7 months.

Aug 10, 2018
Anselmo Garcia
It is with profound gratitude that I express my thanks to Employment Lawyers Group, especially lawyer Karl Gerber, for representing us and doing their best to win the case for our side in a very conclusive time. A lot of effort has been done to settle this case, and Karl Gerber was with us all the way. The case was started and resolved in a short time and depositions were not even taken. I highly recommend this group especially Karl Gerber. Put your trust and confidence in them for any employment related case. My family and I are very grateful for their hard work.

Nov 8, 2017
Janet Cruz
Karl A. Gerber is a true professional that is accessible, approachable and has his client's best interest at heart.

Aug 18, 2017
Adonis
Karl Gerber is a awesome person first of all second of all he kept in touch with me and third of all he won my case simple with very little time he's great and he cares good luck !!!

Jan 24, 2018
Ron Messick
Karl was great to work with, he took the time to fully understand my case. He was fully prepared during all meetings and was able to get me a settlement. His staff was always eager to help when I called and were very professional.

01/28/2015

It all started almost 6 years ago when I was "fired" for taking Maternity leave. I will never forget the words from my previous employer "you're fired!". Or maybe I will. Not sure how I found the team but I did. The office staff is wonderful, very respectful. Karl & Eric worked on my case for 6 years. I wasn't sure if I was able to trust attorneys because of the old saying "don't trust them, they sell out!" WRONG!!! I must say they're very honest, trustworthy, humble and most important they care about YOU!
When we went to trial Karl (aka The BEAST!) Gerber puts on a show. Not only does he attack, he makes sure the JOB is well done.
Points the facts out clearly and makes the defendants witnesses cry. Feels pretty awesome to witness that. We won my first trail, but they (previous employer) wasn't happy so they appealed. My previous employer was scared to face him again on my 2nd trial. Our trial was going to be sometime this year but I am assuming they (employer) didn't want to face the BEAST. We did end up settling for a what I think was a reasonable amount. The BEAST was able to get me 4 times my annual salary. Karl wasn't happy because he knew he would nail it once again in trial. But I was able to walk-off satisfied. I am very happy with my results and you will be too. If you're looking for an attorney with experience call KARL "THE BEAST" GERBER...... 100% satisfaction guaranteed. If you want someone who is going to represent you the way you deserve, call THE BEAST!
CLIENT REVIEW OF ERIC PALMER OF EMPLOYMENT LAWYERS GROUP

01/28/2015
Lorena M.
I am trying to find the words to express my admiration of this Group... Eric Palmer helped me restore my faith in the corporate world and get some justice after the many years of abuse and unappreciated hard work i had invested in a company i had given up so much for more than 5 years...It is difficult to fight such sharks I know were investing at least a year on collecting and putting a case against me. I knew they were preparing themselves and I had assumed no one could stand and fight by me...I was surprised, and SO RELIEVED... it helped me in so many different ways!
Hard to forget the injustice done however will always remember Eric and the team for helping me open a new page.
THANK YOU Eric.
- Lena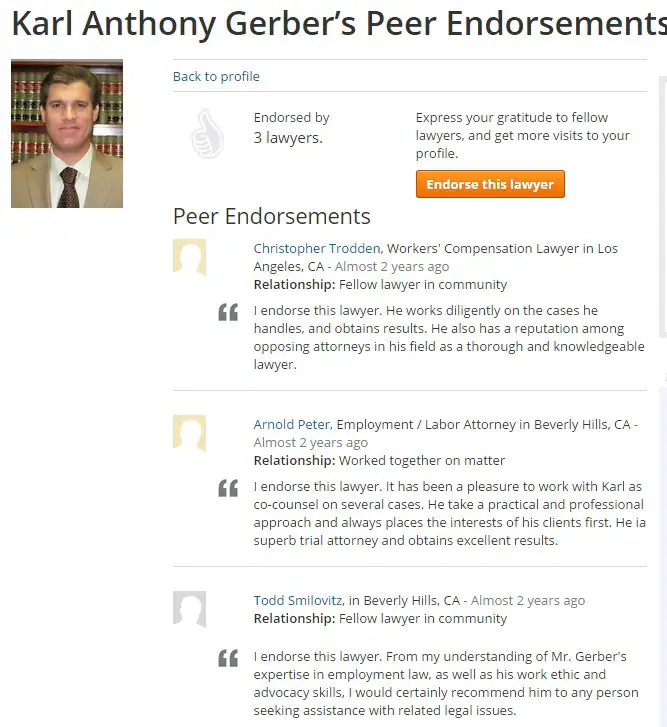 AVVO.com, Peer Endorsments