SEXUAL ABUSE LAWYER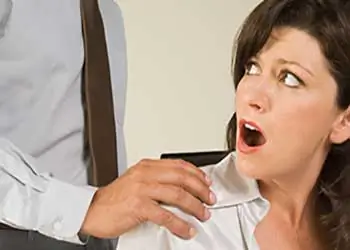 Workplace sexual abuse is serious, and merits the right sexual harassment lawyer. Our sexual abuse lawyers will handle your workplace abuse case in a tactful manner while preserving the confidentiality and privacy of your delicate legal matter. All of our attorneys are experienced employee lawyers who have handled many sexual abuse cases.
WHO ENGAGES IN WORKPLACE SEXUAL ABUSE?
Workplace sexual abuse usually involves a superior such as a boss, manager, supervisor, or the owner of the company. Generally an employee of authority engages in workplace sexual abuse because they have the power to do so. However, we have handled many cases in which a coworker engaged in abuse of a sexual nature. Sexual harassment in the workplace is something we feel very strongly about, and seek to protect the legal rights of victims of workplace harassment.
WE ADVANCE COURT COST. ALL CASES ARE TAKEN ON CONTINGENCY. WE ARE ONLY PAID IF WE WIN!
1-877-525-0700
WHAT IS WORKPLACE SEXUAL ABUSE?
Quid pro quo sexual harassment (this for that) is common in workplace sexual abuse cases. We have successfully handled workplace abuse cases in which employees were forced to have sexual relations with their supervisors in order to keep their jobs. Forcing employees to tolerate repeat verbal harassment of a sexual nature is also a form of workplace sexual abuse. However, in order to be sexual abuse the harassment does not need to rise to the level of the victim engaging in sexual acts with the abuser. Likewise, while the conditioning of employment, job benefits, or work on a tolerance for sexual harassment is workplace sex abuse it is not necessary that the victim accepted or allowed any form of sexual harassment.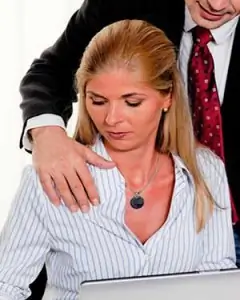 Hostile work environments constitute sexual abuse if verbal or physical sexual harassment occurs. The key in any sexual harassment case is the conduct is unwelcome. In sexual abuse cases involving actual sexual relationships, it is necessary that the victim was forced to engage in the conduct. Consensual relations are not sexual abuse under the law.
Harassing conduct must be offensive to a reasonable person in the circumstances of the employee being sexually harassed. Typically the employee's age, socioeconomic status, and education go into the equation of whether they would find the conduct unwelcome and harassing. The position of the harasser is also relevant i.e. he was the supervisor.
Some forms of workplace sexual abuse involve assault or battery. Battery involves actual physical touching. Assault occurs when the employee believes they are about to be touched in a physical manner by somebody with the ability to touch them in a violatory manner. Employees should not have to worry about wrongful touchings, or attempts to touch them at work. If this has happened to you at work, contact our work abuse lawyers at 1-877-525-0700.
Sexual battery occurs if the employee's sexual organs are touched. Sexual organs include breasts, genitals, and buttocks. Sexual battery also occurs if the sexual harasser uses their breast, genitals, or buttocks to make contact with any part of the sexual harassment victim's body. Sexual assault is the same sort of thing, but involves an attempted touching opposed to an actual touching. Sexual assault and battery involves sexual touching whereas regular assault and battery does not.
Workplace sexual abuse is a form of sexual harassment. Labor and employment laws prohibit workplace sexual abuse. These worker rights laws require the employer to pay your attorney fees and costs of suit if you win. This is one of the reasons why we take workplace sexual abuse cases on a contingency.
HOW DO I SUE FOR WORKPLACE SEXUAL ABUSE?
The first step in suing for workplace sexual abuse is to hire the right lawyer. By hiring an experienced, established sexual abuse lawyer what has to be done on your case becomes their job and not yours. We understand victims of abuse do not want to be constantly reminded of what they went through. Our goal is to handle each sexual abuse case with minimal intrusion into our client's life while taking up as little of their time as possible.
It is essential that we believe in our clients. Because we believe in our clients, and because few individuals could afford to pay legal fees up front all sexual abuse cases are handled on a contingency. This means we advance all litigation costs and are only paid a legal fee when and if we win the sexual abuse case and collect money from your employer.
Our law firm will take all necessary measures to prosecute your workplace sexual abuse case in court. If the employer will pay a sufficient settlement before trial, it will not be necessary to try your case in court. Only a small percent of all sexual abuse cases go to trial. If your abuse case needs to go to trial, we are well equipped to handle it.
WHAT IF I WAS FIRED BECAUSE I OBJECTED TO SEXUAL HARASSMENT?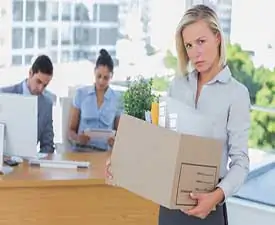 Terminations of employment due to objections or complaints about sexual harassment are wrongful termination. Our retaliation lawyers are experienced in examining evidence to see if we can prove an employment termination was substantially motivated by a complaint of sexual harassment, or the employee's failure to go along with the campaign of sexual harassment.
Victims of sexual harassment often quit their job because they can no longer tolerate the sexual abuse. At all times, we handle cases in which the victim of sexual harassment was forced to resign due to the intolerable nature of sexual abuse.
Sexual harassment at work cases not only involve a potential of winning the case for damages due to the sexual harassment that occurred. If there is a loss of employment a separate portion of the sexual harassment case involves whether the employer is responsible for damages caused due to the employee's loss of the job. Losses of jobs due to sexual harassment do not always mean terminations of employment by the employer. Losses of jobs due to sexual harassment occur because of wrongful termination, being forced to quit, or a doctor determining the employee could not go back to work at the employer for a period of time or ever.
OUR SEXUAL ABUSE CASE RESULTS:
$797,712 Present Cash Value for Ontario Sexual Harassment by Manager
$568,480 Present Cash Valuefor  Reseda Sexual Harassment by Manager
$373,265 Present Cash Value for El Monte Sexual Harassment by Supervisor
$289,462 Present Cash Value Camarillo Sexual Harassment Boss Touching and Comment Case Settlement
$225,000 Panorama City Customer Sexual Harassment in 2014
$200,000 Van Nuys Executive Sexual Harassment in 2014
$165,000 Camarillo Sexual Harassment by Manager in 2014
* We have hundreds of sexual abuse case results over the last 20 years. These are only a few.
Contact our workplace harassment lawyers at 1-877-525-0700 for a confidential case consultation