CALIFORNIA EMPLOYMENT ATTORNEY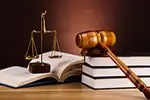 We have represented California employees in lawsuits against their employers since 1993. Our reach in California has been expansive. We have tried employment cases in multiple California counties, and handled employment appeals in multiple California counties.
California employment law is usually more advantageous to the employee than Federal employment laws. Likewise, California employment laws are better than the employment laws in other states. Firm owner, Karl Gerber knows because he is also a licensed employment attorney in the District of Columbia, Massachusetts, and Texas. However, he has been involved in employment lawsuits in almost every state in the United States. He has gone what is called, "Pro hac vice" which means he was given special permission by out of state courts for admission to practice employment law in that state for one employment case only. In other states he was hired by employment attorneys as an expert witness or strategist in employment cases, on the side of the employees.
WE ADVANCE COURT COST. ALL CASES ARE TAKEN ON CONTINGENCY. WE ARE ONLY PAID IF WE WIN!
1-877-525-0700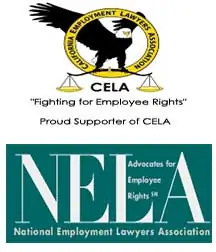 The other attorneys who work at our law firm are long-term California employment attorneys. They have devoted their careers as attorneys to representing employees in employment cases. Even our staff of long-term paralegals has been specifically trained in how to assist employment attorneys in employment lawsuits. We do not do take any other types of cases.
Firm founder, Karl Gerber, is a member of the California Employment Lawyers Association (CELA) and the Labor and Employment Section of the California State Bar. When his practice was focusing on the nationwide representation of employees he was a member of the National Employment Lawyers Association (NELA). Both CELA and NELA are organizations which only allow employee attorneys to be members opposed to attorneys who represent employers.
Presently we have employment cases in Kern County, Los Angeles County, Orange County, Riverside County, San Bernardino County, San Francisco County, and Ventura County. We recently opened offices in Sacramento County and San Jose County in hopes of obtaining employment cases in those counties. Also in 2014 we opened a San Diego office. While many California employment attorneys may claim they handle cases all over California, we are not aware of any other employment attorneys who actually have offices in all of the California counties the Employment Lawyers Group does.
CALIFORNIA EMPLOYMENT ATTORNEY
These laws include the Fair Employment and Housing Act otherwise known as FEHA, the California Labor Code, case law on wrongful termination and breach of employment contracts. Our employment attorneys have filed lawsuits utilizing virtually every provision of these codes pertaining to employment, and have litigated issues around virtually every holding of each California employment case. If you are looking for expertise and devotion in the area of employee representation in California, you have found the right law firm.
All of our California employment cases are taken on a contingency. Taking cases on a contingency means we do not ask for legal fees up front, and do not accept legal fees up front. We are only paid when and if we win the employment case. Because employment cases must be filed in the California court system, or arbitrated there are case costs involved with the process. These costs include deposition fees to court reporters, court filing fees, mediation fees, costs for subpoenas, and service of process. Our law firm advances all case costs. We hope to be reimbursed for the case costs when and if there is a settlement, verdict, or binding arbitration award on the employment case.
Consider us your California employment attorneys, and call us at 1-877-525-0700 if:
You were wrongfully terminated
You experienced workplace discrimination
You were sexually harassed
You were involved in a work injury
Your employer failed to properly accommodate your medical absence/leave
Your employer owes you money whether it is overtime, prevailing wage, an unpaid bonus,commission, or you were prevented from taking meal or rest breaks
Your employer violated the contract for employment
You want to initiate a class action lawsuit against your employer
Firm Founder, Karl Gerber, has been the attorney of record in approximately 1,540 California employment cases filed in California state courts, California Federal courts, and binding employment arbitrations. His personal record as of the time this article was written is he has won 45 out of the 46 binding arbitrations and trials he has first-chaired.